I spoke to a friend of mine about my podcast and what we are prepared to tolerate and accept in some workplaces. It is truly unbelievable, even when we are told it will cause brain injury? The reply was "I don't have personal experience of bullying so the concept of tolerating physical harm or experiencing brain injury doesn't apply to me directly."
But it does, because the standard in which you walk past, is the standard you will accept. For years we've witnessed it in some form or other and maybe were too afraid to speak up. Now with the ground breaking neuroscience and research we have an obligation to call out bullying to protect others. In much the same way we must call out child abuse if we know it is happening.
Workplace bullying is a serious issue that can have detrimental effects on an individual's mental and emotional well-being. It is important to recognise that the impact of bullying on one's mental health can indeed be severe and long-lasting.
In an ideal world, no one should tolerate bullying or any form of abuse in the workplace. It is crucial to prioritise mental health and seek a safe and supportive work environment. If you're experiencing workplace bullying, it is recommended to take appropriate steps to address the situation, such as documenting incidents, reporting the behaviour to human resources or management, and seeking support from colleagues, friends, or professional counsellors.
Organisations and employers also play a crucial role in preventing and addressing workplace bullying. They should have policies and procedures in place to promote a respectful and inclusive work environment and take proactive measures to prevent and address instances of bullying.
In our podcast series #TheBulliedBrain Dr Jen Fraser and I delve into the hidden consequences of workplace bullying and its impact on individuals' mental health. Shedding light on a distressing reality, we confront the parallels between bullying-induced brain injury and the physical trauma caused by a baseball bat strike. The central question emerges: why do we tolerate the invisible injury inflicted upon us daily when we face bullying at work, subjecting ourselves to further damage akin to running into a burning building daily?
Drawing from extensive research and compelling lived experiences we delve into the multifaceted aspects of workplace bullying and its detrimental effects on mental well-being. We explore the psychological and physiological toll that persistent abuse takes on individuals, equating it to the impact of physical trauma. As the evidence mounts, we are all compelled to question society's prevailing indifference towards this insidious form of violence.
Through a comprehensive examination of workplace dynamics and societal attitudes, we confront the paradoxical nature of our acceptance of such abuse. We investigate the underlying reasons why victims may feel compelled to endure toxic work environments, despite the obvious harm to their mental health.
This podcast series serves as a poignant reminder that workplace bullying should not be dismissed as a mere inconvenience but recognised as a grave concern with severe repercussions. We encourage you all to reflect on the societal structures and attitudes that perpetuate the cycle of bullying, urging individuals, organisations, and policymakers to take proactive measures to foster healthier work environments.
We challenge the prevailing narrative surrounding workplace bullying, aiming to spark conversations and action that dismantle the notion of tolerating invisible injuries. By shedding light on the profound impact of bullying-induced brain trauma, we hope to inspire change and foster workplaces that prioritise compassion, respect, and well-being for all.
If you are experiencing bullying in the workplace please reach out to the following agencies that can help you or visit our website The FEMCAST for more resources and helpful information. Everyone deserves to feel safe.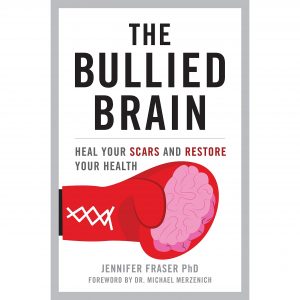 Workplace Relations Commission
FLAC – promoting access to justice
To purchase Dr Jennifer Fraser book The Bullied Brain please click HERE