Following the success of their recent hit Channel 4 documentary Celebrity Save Our Sperm, produced by Crackit Productions, the Society for Reproduction and Fertility (SRF) is delighted to host the stars of the programme for a deeper dive into the battle to improve male reproductive health during their live 'One Night Stand' event . Ollie Locke-Locke and Melvin Odoom will join Dr Anand Patel and Professor Richard Lea on stage to put male fertility under the microscope and bare all about their bid to improve their fertility.
The SRF's 'One Night Stand' is a new annual live event in which the SRF partners well-known personalities with a leading scientist in the field of reproduction and fertility for one night only, to spread awareness and tackle the hot topics in reproduction and fertility.
Infertility affects 1 in 6 couples globally. Today, men's sperm counts are about half of their grandfathers and men account for nearly half of all fertility issues. Although infertility is a shared responsibility between men and women, male fertility is rarely discussed publicly!
Dr Anand Patel, GP & specialist in sexual function and men's health said: "Men's sperm counts have dropped by 50% in the past 50 years in the West. Despite this, many fertility clinics still focus purely on female factors. What we mention even less is that sperm counts are linked to a man's overall health. Being able to take part in Celebrity Save Our Sperm on Channel 4 and this event are great opportunities to raise awareness of issues that affect fertility, and more so, to practically share ways to improve this AND our general health!"
Prof Richard Lea, Professor of Reproductive Biology and Chair of SRF said: "The topic of male fertility is often viewed as taboo and is not openly discussed! With male fertility being lower than it was 4 to 5 decades ago, there are concerns that our lifestyle and environment are not doing our fertility any good! With input from our celebrities talking about their own reproductive journeys, our SRF 'One Night Stand' public event explores this worrying trend and asks if there is anything we can do to protect our own fertility."
Join the celebs and specialists for one night only, as they get frank about fertility and take questions from our live audience!
Dr Erin Williams, Chair of SRF Education and Public Engagement Committee said: "Knowing how to look after your downstairs plumbing, and having the confidence to talk about it is key to good reproductive health and fertility! At SRF, we have created 'One Night Stand' as a fascinating, frank and fun event to get everyone talking about their naughty bits. It's definitely one not to be missed."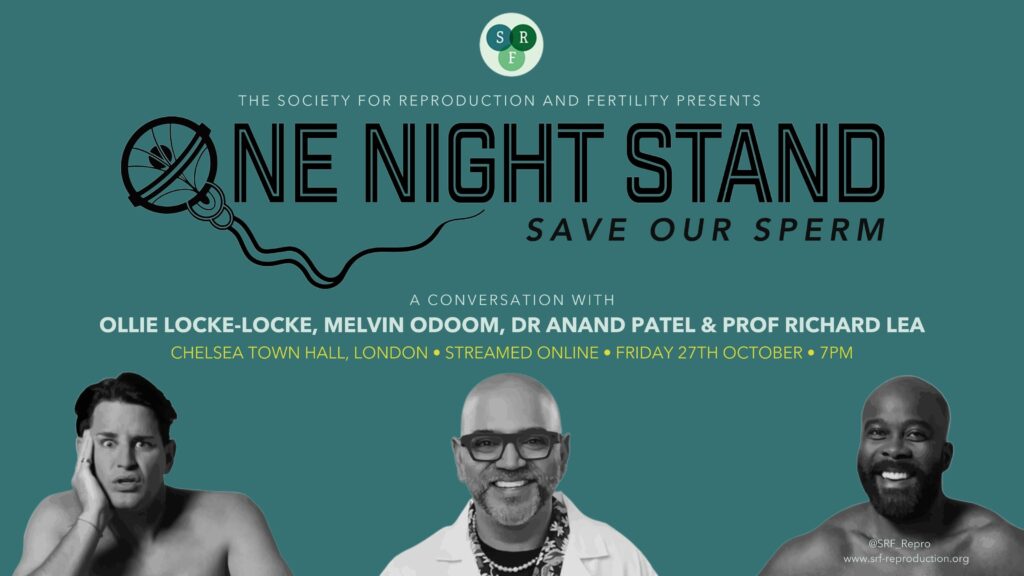 Tickets are FREE and can be booked online.  There is the option to attend in person or to view the live stream.
The Society for Reproduction and Fertility is a registered charity and was set up to promote research in reproduction and to engage the public with the work of our scientist and clinician members. Our aim is to bring people together to address key reproductive issues and to discuss what we know about shared problems affecting reproduction and fertility.
The society, first established in 1949, supports a range of national and international activities including the World Congress of Reproductive Biology, annual Fertility conferences and financial support for its members to engage in research, educational and public engagement activities.