You're very welcome to the podcast, my name is Anita Moran and I'm the founder of The FEMCAST … a podcast and website, driven by a passion for empowering women and promoting gender equality.
Through The FEMCAST, we are making it our mission to educate, empower, and encourage women to harness the power of their voices, share their stories, and raise awareness of the crucial issues affecting women today.
By amplifying women's voices and prioritising their well-being, welfare, and mental health, The FEMCAST aims to strengthen women's rights and celebrate the achievements of women everywhere.
The FEMCAST serves as a movement fuelled by women's voices, ideas, and vision, striving for equality.  We are committed to making a difference in society, getting involved in important social and political issues, advocating for equality, challenging societal norms and striving to build a more inclusive and equitable world for all.
We are passionate about making a positive impact through storytelling, advocacy, and creating a supportive community to act as an inspiration to others who aspire to effect change.
Introducing "The Bullied Brain Series" with esteemed educator and bestselling author Dr Jen Fraser, from her book of the same name.
Today we're going to delve into the fascinating world of neuroscience.
It turns out, bullying and abuse leaves lasting physical wounds on the brain.
Drawing upon Jen's extensive research and experience, we present an evidence-based, step-by-step plan to repair the harm inflicted upon victims.
Jen's ground-breaking book, The Bullied Brain, renowned as the most comprehensive scientific treatment of the subject, serves as the foundation for our discussions.
Jen brings brain science to the forefront, challenging outdated beliefs surrounding bullying and abuse. By highlighting the neurological scars trauma leaves on the brain through advanced imaging techniques, we will discover some remarkable truths…
We also want to remind you that we care about your well-being. If any topics discussed on today's episode have raised concerns or if you need support, please follow the links below for agencies that can help you and offer you advice on what to do.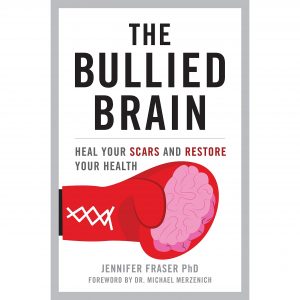 Click here to purchase The Bullied Brain